The First TEAMx Workshop took place in Rovereto, Italy, on 28-30 August 2019.
Group photo on 29 August 2019. Photo credits: Ivana Stiperski.

Workshop opening, 28 August 2019. From left to right: Dino Zardi (local host), Paolo Collini (rector of the University of Trento), Francesco Valduga (mayor of Rovereto). Photo credits: Mathias Rotach.

First session of the workshop, 28 August 2019. Mathias Rotach introducing TEAMx. Photo credits: Stefano Serafin.

One of the discussion sessions. Jean-Martial Cohard at the flipchart. Photo credits: Karmen Babić.

Workshop dinner at Collegio Arcivescvile on 28 August 2019. Photo credits: Stefano Serafin.

Workshop dinner at Collegio Arcivescvile on 28 August 2019. Photo credits: Stefano Serafin.
The workshop brought together experts in mountain meteorology and climatology from both the experimental and the numerical modelling communities, and identified the greatest gaps in knowledge that require collaborative research in mountain- and boundary-layer meteorology and climatology, as well as in related disciplines such as air chemistry, alpine ecology, hydrology.
The event was attended by 92 participants from 11 countries. The group photo is available at full resolution and with annotated names.
The programme included a series of discussion sessions (see full list further down). Selected workshop material, mostly consisting of informal discussion summaries, is available.
Hosting institutions
Funding institutions
Programme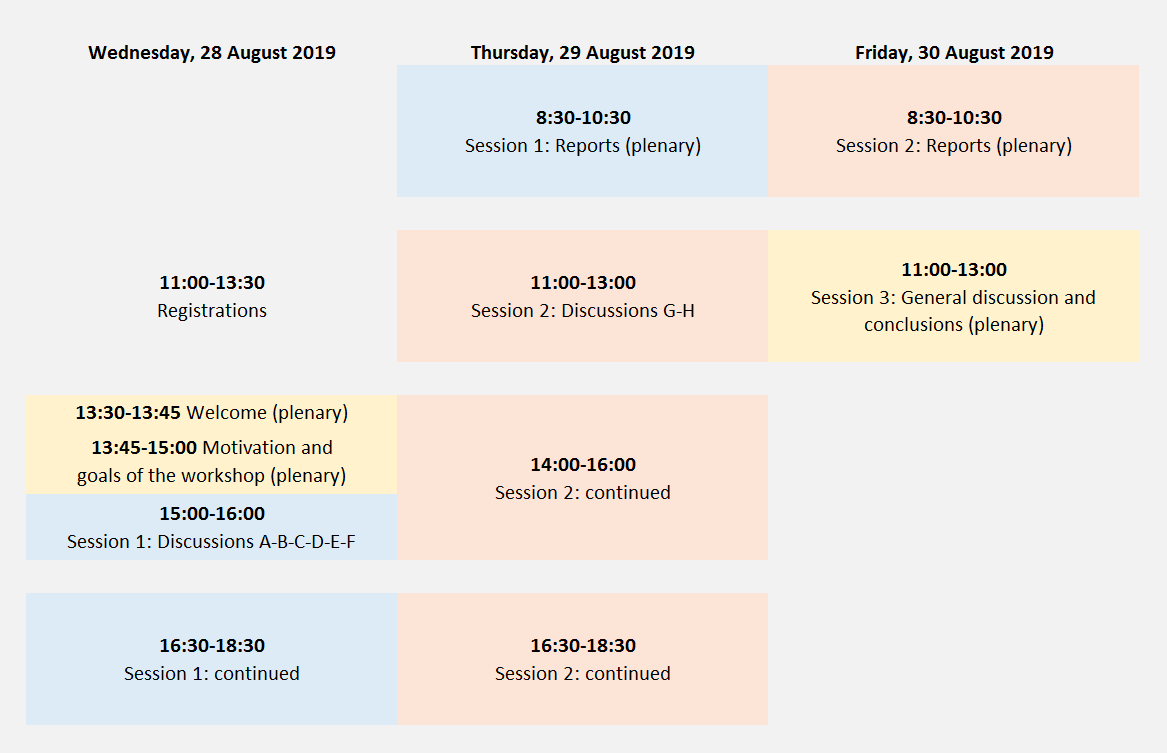 Discussion A: Air chemistry and atmospheric dispersion modelling
moderated by Thomas Karl and Stephen Mobbs
: Surface fluxes of pollutants and natural trace gases in mountainous areas; Time scales of the transport and chemical reaction of trace gases and aerosols; Exchange of trace gases and aerosols between the boundary layer, the free troposphere and the stratosphere; Air quality monitoring.
Discussion B: Climate processes and changes in mountains
moderated by Elisa Palazzi
: Elevation-dependent climate change; Essential climate variables for mountainous areas; Elevational transects; Regional and convection-permitting climate modelling; Downscaling; Climate change impact modelling; Cross-scale interactions; Uncertainty propagation across scales.
Discussion C: Orographic convection
moderated by Daniel Kirshbaum
: Boundary-layer control of convective pre-conditioning and initiation near mountains; Predictability of orographic convection in convection-permitting models; Parameterization of orographic convection.
Discussion D: Orographic flow dynamics
moderated by Vanda Grubišić
: Foehn-induced turbulence and its impact on surface exchange; Heat and mass exchange induced by internal gravity waves; Advances in orographic drag parameterization.
Discussion E: Land-atmosphere exchange
moderated by Georg Wohlfahrt and Joan Cuxart
: Micrometeorological measurements; Eddy-covariance method; Surface energy balance; Scaling laws in the surface layer; Fluxes of energy, water and carbon; Monitoring of the soil and vegetation status and related processes.
Discussion F: Mountain boundary layer flows
moderated by Stephan De Wekker and Stefano Serafin
: Three-dimensional structure of the mountain boundary layer; Turbulent and advective exchange processes; Vertical extent and time scales of mountain-induced exchange; Convective and stable boundary layers.
Discussion G: Strategy for field experiments
moderated by Vanda Grubišić and Alexandre Paci
: Ground based in-situ measurement and remote sensing of the mountain boundary layer and the free atmosphere over mountains; Airborne measurements; Target areas; Intensive and extended observation periods; Supersites; Useful observational datasets from past field campaigns.
Discussion H: Strategy for modelling experiments
moderated by Jürg Schmidli and Marco Arpagaus
: Model intercomparison experiments; Model diagnostics; Forecast verification; Parameterization development; Data assimilation; Predictability studies.
Scientific organizing committee
Marco Arpagaus, MeteoSwiss
Joan Cuxart, University of the Balearic Islands
Stephan De Wekker, University of Virginia
Vanda Grubišić, National Center for Atmospheric Research
Daniel Kirshbaum, McGill University
Stephen Mobbs, National Centre for Atmospheric Science
Alexandre Paci, Meteo France
Elisa Palazzi, National Research Council of Italy
Mathias Rotach, University of Innsbruck
Stefano Serafin, University of Innsbruck
Dino Zardi, University of Trento
Local organizing committee
Alessia La Micela, University of Trento
Stefano Serafin, University of Innsbruck
Dino Zardi, University of Trento
Venue
The workshop was hosted in Rovereto in Palazzo Piomarta, the premises of the Department of Psychology and Cognitive Sciences of the University of Trento. Address: Corso Bettini 84, Rovereto.
Workshop dinner
All workshop participants attended a social dinner on Wednesday, 28 August 2019, in the cloisters of Collegio Arcivescovile (Corso Bettini 71, Rovereto).
How to reach Rovereto
By car: A22, Brenner Motorway, exits Rovereto sud/Lago di Garda nord or Rovereto nord. Create your own route with Google Maps or ViaMichelin.
By train: Rovereto is a regular stop for long-distance trains along the Brenner railway line. For timetables check the websites of the Italian railways Trenitalia and of the Austrian railways ÖBB.
By plane: Rovereto is served by several regional and international airports:
Verona (Valerio Catullo), 75 km distance.
Venice (Marco Polo), 200 km distance.
Milan Linate, 215 km distance.
Milan Bergamo, 170 km distance.
Milan Malpensa, 245 km distance.
Bologna (Guglielmo Marconi), 200 km distance.
Innsbruck, 200 km distance.
Connecting times with the closest airport (Verona) are about 50 minutes driving and 100 minutes by public transport.
Moving around in Rovereto
By bus: For information about routes, timetables and connections, check Trentino Trasporti. Bus stop "Corso Bettini MART" (lines 1, 2, 3, 4, 6, 7, N1, N2, N3) is right next to the TEAM Workshop venue.
Taxi service: At the railway station in Piazzale Orsi 9, tel. ++39 0464 421365.
Parking: MART, the Museum of Modern and Contemporary Art of Trento and Rovereto, is located across the street from the TEAMx Workshop venue. MART has fee-paying underground parking for 300 vehicles, with opening hours 5:30-22:30 every day. The cost is 0,80 EUR/hour, the entrance is on the northern side of the museum (Via Sticotta).
Other useful links
Accommodation in Rovereto
Block reservations have been made at two hotels in Rovereto for the period 27-30 August 2019.
Hotel Leon d'Oro (Via Tacchi 2, Rovereto). The pre-reservation of 10 rooms was valid until 30 June 2019. Single room 70/85/100 EUR/night and double room 95/110/125 EUR/night, resp. for classic/superior/deluxe. Additional rooms might be made available at a later stage. This hotel is in central Rovereto, at walking distance from both the train station and the TEAMx workshop venue.

Hotel Mercure Nerocubo (Via per Marco 16, Rovereto). The pre-reservation of 10 rooms was valid until 6 May 2019. Single room 71 EUR/night, double room 81 EUR/night, rates with breakfast included. Additional rooms might be made available at a later stage. This is an optimal accommodation if you are reaching Rovereto by car. The hotel is next to the exit Rovereto sud/Lago di Garda nord on highway A22, approximately 6 km from downtown Rovereto. Bus lines 1 (bus stop "Sp. 23 Nero Cubo") and 2 (bus stop "Mori Stazione, Via Stazione") connect to the town centre.
In addition, Collegio Arcivescovile (Corso Bettini 71, Rovereto), a student residence and boarding school in central Rovereto, made 39 rooms available to TEAMx workshop participants. Rooms were assigned on first-come first-served basis. Single room 50 EUR/night, rate with breakfast included. All rooms have private bathroom. This accommodation can be booked only by contacting the TEAMx Project Coordination Office. Bookings are accepted for the period between 27 and 31 August 2019. Collegio Arcivescovile is located at approximately 500 m from the TEAMx workshop venue.
About a dozen smaller facilities offer bed and breakfast accommodation in Rovereto. All of them are listed and bookable on the website of Rovereto's Tourist Office.
For all accommodations except Collegio Arcivescovile, a city tax of 1,80 EUR/night (not included in hotel rates) is due.
Accommodation in Trento
In case of lack of accommodation in Rovereto, it is possible to stay in Trento (25 km to the north). Trento and Rovereto are connected by frequent trains between 6 and 22:30. The ride takes about 15 minutes. A few hotels are located within a 5-minute walk from the train station in Trento: Grand Hotel Trento, Hotel Buonconsiglio and Hotel America.