The First TEAMx Workshop is scheduled in Rovereto, Italy, on 28-30 August 2019.
The workshop is the first chance given to the mountain meteorology community to actively collaborate in the TEAMx programme development. The objectives of the workshop are:
To bring together experts in mountain meteorology and climatology from both the experimental and the numerical modelling communities.
To identify the greatest gaps in knowledge that require collaborative research in mountain- and boundary-layer meteorology and climatology, as well as in related disciplines such as air chemistry, alpine ecology, hydrology.
To get the users of numerical weather prediction and climate simulation products involved in planning future research in mountain meteorology.
The event is by invitation only.
Hosting institutions
Supporting institutions
Tentative

programme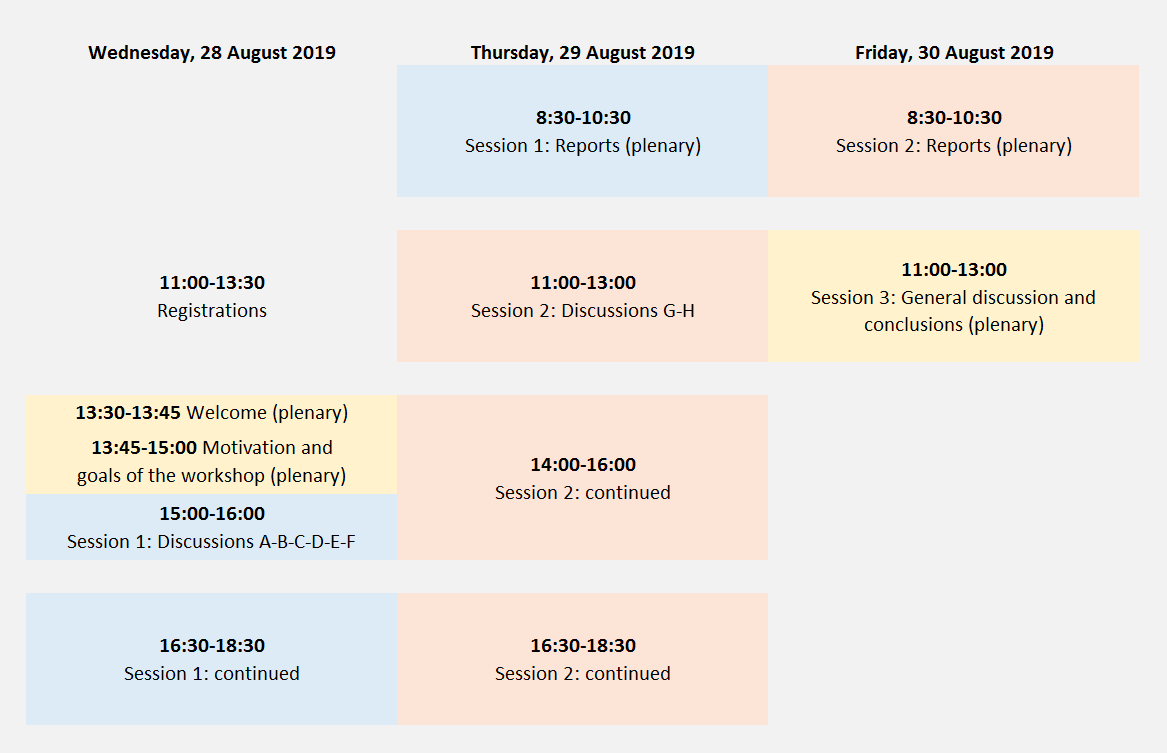 Discussion A: Air chemistry and atmospheric dispersion modelling
moderated by Thomas Karl
Discussion B: Climate processes and changes in mountains
moderated by Elisa Palazzi
Discussion C: Orographic convection
moderated by Daniel Kirshbaum
Discussion D: Orographic flow dynamics
moderated by Vanda Grubišić
Discussion E: Land-atmosphere exchange
moderated by Georg Wohlfahrt
Discussion F: Mountain boundary layer flows
moderated by Stephan De Wekker and Stefano Serafin
Discussion G: Strategy for field experiments
moderated by Vanda Grubišić and Alexandre Paci
Discussion H: Strategy for modelling experiments
moderated by Jürg Schmidli and Marco Arpagaus
Participants
The list of confirmed participants is available here.
Scientific organizing committee
Marco Arpagaus, MeteoSwiss
Stephan De Wekker, University of Virginia
Vanda Grubišić, National Center for Atmospheric Research
Daniel Kirshbaum, McGill University
Stephen Mobbs, National Center for Atmospheric Science
Alexandre Paci, Meteo France
Elisa Palazzi, National Research Council of Italy
Mathias Rotach, University of Innsbruck
Stefano Serafin, University of Innsbruck
Dino Zardi, University of Trento
Local organizing committee
Alessia La Micela, University of Trento
Stefano Serafin, University of Innsbruck
Dino Zardi, University of Trento
Venue
The workshop will be hosted in Rovereto in Palazzo Piomarta, the premises of the Department of Psychology and Cognitive Sciences of the University of Trento. Address: Corso Bettini 84, Rovereto.
How to reach Rovereto
By car: A22, Brenner Motorway, exits Rovereto sud/Lago di Garda nord or Rovereto nord. Create your own route with Google Maps or ViaMichelin.
By train: Rovereto is a regular stop for long-distance trains along the Brenner railway line. For timetables check the websites of the Italian railways Trenitalia and of the Austrian railways ÖBB.
By plane: Rovereto is served by several regional and international airports:
Verona (Valerio Catullo), 75 km distance.
Venice (Marco Polo), 200 km distance.
Milan Linate, 215 km distance.
Milan Bergamo, 170 km distance.
Milan Malpensa, 245 km distance.
Bologna (Guglielmo Marconi), 200 km distance.
Innsbruck, 200 km distance.
Connecting times with the closest airport (Verona) are about 50 minutes driving and 100 minutes by public transport.
Moving around in Rovereto
By bus: For information about routes, timetables and connections, check Trentino Trasporti. Bus stop "Corso Bettini MART" (lines 1, 2, 3, 4, 6, 7, N1, N2, N3) is right next to the TEAM Workshop venue.
Taxi service: At the railway station in Piazzale Orsi 9, tel. ++39 0464 421365.
Parking: MART, the Museum of Modern and Contemporary Art of Trento and Rovereto, is located across the street from the TEAMx Workshop venue. MART has fee-paying underground parking for 300 vehicles, with opening hours 5:30-22:30 every day. The cost is 0,80 EUR/hour, the entrance is on the north side of the museum (Via Sticotta).
Other useful links